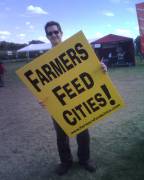 As harvest season approaches in the northern hemisphere, you can almost hear the sounds of farmers from Warsaw to Wallaceburg, proclaiming times are getting better. Even though many are still stinging from years of low prices and other maladies such as the BSE (mad cow disease) crisis, and this year's drought which hit some places hard, overall, happier days have arrived.
There's evidence of optimism everywhere farmers have a presence. For example, people can't stop talking about local food, which is sweeping almost every developed country.
Then there's farm support, which has been bolstered by the provincial Liberals putting their support behind an equitable, farmer-driven program.
And finally, there's the gleaming, brand new green, red, yellow and blue farm equipment being transported now to commercial events such as Canada's Outdoor Farm Show near Woodstock (above is a photo I took of Scott Allison of Farmers Feed Cities, an exhibitor at the event). Organizers of the show, which kicked off Tuesday, are expecting the biggest turnout ever in its 14-year history. It's enjoying an unprecedented number of exhibitors and sponsors, which is being attributed to strong crop prices and a revived, positive political climate in Ontario.
Guelph agri-marketing mainstay Len Kahn, director of sponsorship and communications for the show, says rising production costs and the strengthening Canadian dollar still cause some problems for farmers. But broadly, he senses overwhelming optimism. Farm shows often act as a bellwether for the state of Canadian agriculture, he says, and when producers feel good about the future, they attend farm shows in a buying mood. Kahn says the 'greening' of society has helped, and significantly affects agriculture. Ethanol, biodiesel, alternative power generation and creative new methods of power conservation are all in the public's psyche. In response, the farm show is launching its first sustainable energy expo, another indication that farmers and the public are finding new middle ground.
Overseas, it's the same story. A huge world-class farm equipment show called AgriTechnica gets underway in November (even Canadians travel to Europe for this show), and organizers expect a lot of buying activity. They surveyed nearly 3,000 farmers in the spring, and at least half of the producers questioned in Germany, Poland, France and the U.K. viewed the economic future as 'very good.' German farmers, in fact, are euphoric – 88 per cent think the road ahead is smooth and flat. AgriTechnica says the positive mood reflects the 'boom' in agriculture, as cereal prices rise to higher levels, grain stocks fall and demand for bioenergy raw material continues to grow.
Back in North America, record new crop prices and demand spurred farmers to plant a mammoth corn crop in 2007. New corn acreage was at the expense of soybean acres, and people wondered about the future of this oilseed, which had made a big impression in the Midwest, as well as Ontario.
But those worries are tailing off. A new survey by a U.S. farm publication called Farm Futures suggests this year was the prelude for what it thinks will be a battle between corn and soybeans in 2008. Farmers there, who significantly shape the price of grain and oilseeds worldwide because they grow so much, are ready to move back into soybeans. Many farmers like the fact soybeans have built-in nitrogen fertilizer properties, not to mention the fact soybean prices, like corn, have rallied.
That creates a scenario worth watching, for anyone who buys food. Corn prices are already on the rise, despite huge acreage. If producers cut back corn acres but demand continues to grow thanks mainly to biofuel demands, prices will increase further. In fact, the Farm Futures survey, conducted just last month, reported farmers were ready to cut corn acres by almost 10 per cent next year. Then what happens?
Who knows, but it's likely that trend will continue working in farmers' favour. Consider a state-of-the-union report late last month from Statistics Canada, which reported market cash receipts for farmers increased to a record level during the first six months of 2007. Farmers received $17.6 billion in market revenue between January and June, up almost 14 per cent from the same period in 2006. As Kahn noted earlier, high returns are accompanied by higher expenses, too, which means farmers don't automatically start rolling in cash.
But as the federal report also noted, government payments to farmers dropped by more than 14 per cent during the first six months of 2007, as well. They're still a weighty $2.2 billion, but that's 4.5 per cent below the most recent five-year average. And if prices stay high and costs don't escalate, farmers will continue needing less help.
Meanwhile, they'll make financial contributions to their new risk management plan in an orderly fashion, and in partnership with the province, be more ready than ever if prices dip.
But meanwhile, it's a happy harvest. Finally.