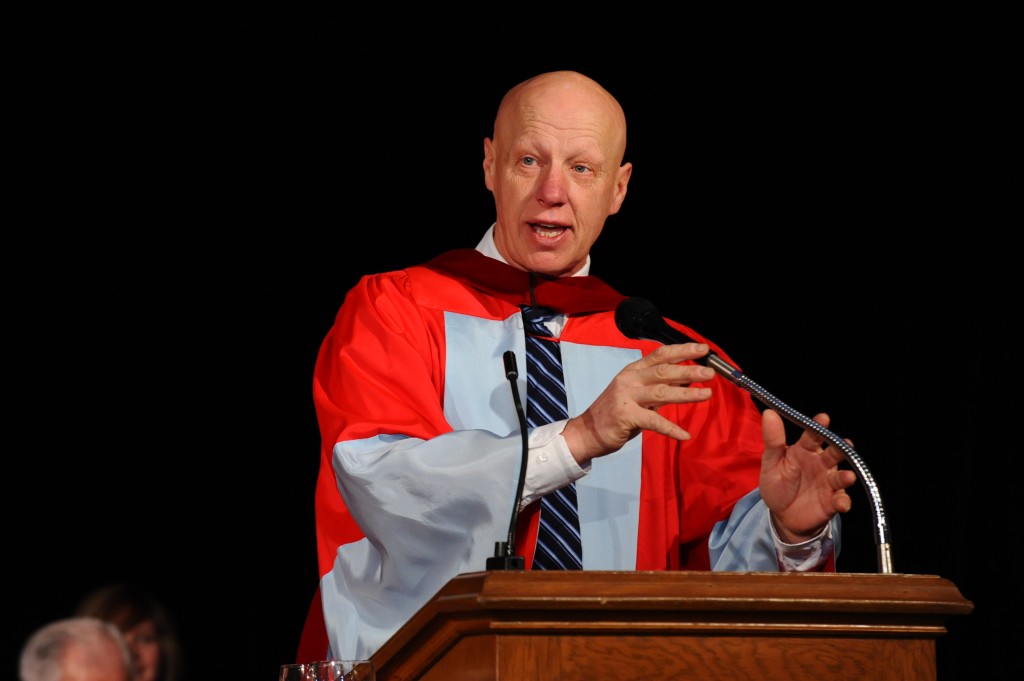 (photo by Grant Martin)
Without sounding too simplistic, some would lay the economic problems we're having at the feet of immorality.
Society got too greedy — we overconsumed in many ways, and the chickens have come home to roost. That means astounding job losses, bailouts in the trillions and a general malaise that most of us have never experienced.
And while the enormity of the matter is overwhelming, there's one aspect that can be changed pronto — that is, business ethics.
Canadian farm leader Jack Wilkinson (pictured above), who received an honorary doctor of laws degree from the University of Guelph last week, told the convocating class for the College of Management and Economics that they and other graduates have a unique opportunity to instil a new morality into the businesses, industries and organizations they join or start.
Wilkinson says rebuilding will include new corporate ethics. They'll be based significantly on equality. Chief executives won't be making millions at the expense of shop floor workers who make comparatively little. Executives won't be walking away with obscene bonuses while their companies fail.
Society won't put up with it, and consumers won't stand by and get skewered.
That change will take vision and leadership. And that, says Wilkinson, is what university graduates offer.
He thinks Canadians, in particular, can help turn things around. In the six years he was president of the International Federation of Agricultural Producers, representing 600 million farm families globally, Wilkinson travelled to some 60 countries. And with all he saw, he continued to be impressed with Canadians' resiliency to succeed, especially farmers.
Wilkinson says we don't realize how we've already beaten so many odds, particularly the weather. As Canadians we mostly shrug it off, but we stun the world with the quality and variety of food we produce in such a northern climate, and on such a relatively small portion of our overall land mass.
Having taken the leadership to beat those odds, can't we do the same and turn over a new ethical leaf?
He thinks we can, and he challenged the graduating class to do so.
"Leaders have a role to play," says Wilkinson. "If management doesn't see the need for social justice, who will? Industry, and the business community, will really influence whether we're going to change."
He cautioned the graduates that coming in with a new plan and new ideas can make you a pain in the corporate culture. But he encouraged the students to be firm in their resolve, and remember their path forward is a noble one.
"Early on, I lost more elections than I won," he remembered. Indeed, his style was much more aggressive than the farm community was accustomed to. His no-nonsense message to government — that is, farmers must be involved in developing the policies that affect them — alienated him time and again.
But he knew the conventional aw-shucks approach wasn't working. And eventually, others became believers. He went on to become president of the Ontario Federation of Agriculture, the Canadian Federation of Agriculture and finally the international federation, where his platform was farmer empowerment. As well, last year, he was elected to the Canadian Agricultural Hall of Fame.
"Jack's commitment to educating farmers, sustainability and fair trade practices is an inspiration to us all," said college dean Chris McKenna. "He's made a difference worldwide."
And, Wilkinson told the college's graduates, so can they.