As last year drew to a close, University of Guelph economics researchers Sylvain Charlebois and Francis Tapon were predicting the 2012 overall price increase in food would be about two per cent.
However, Charlebois cautioned at the time, unpredictable heat, cold and rainfall continue to influence farming in ways never experienced in modern-era agriculture. He warned that could send their numbers askew.
"If the weather co-operates, our predictions will be fine," he said. "But how can we know what Mother Nature will do?"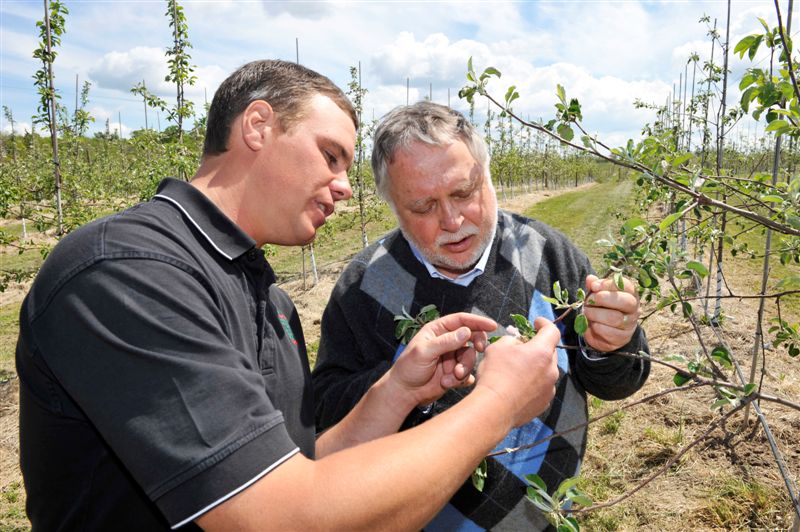 He could hardly have imagined his climatic caveat would be so prophetic. Record high temperatures this winter sparked extremely early blossoming. Then many of those delicate blossoms took a pummeling late last month by the latest of several killing frosts. The damage is done, and when blossoms die, so does the foundation of the tree's fruiting process.
The result, said fruit industry officials last week, is predicted losses of up to $100 million for Ontario's fruit industry, particularly for apples and for what's called tender fruit, such as peaches, cherries, pears, plums and nectarines.
Take $100 million out of any sector and see what happens. This may not officially be deemed a disaster — not yet, anyway — but at the farm level, it's a real mess. I write about the problems it's causing in my Urban Cowboy column in the Guelph Mercury.
In the photo, above Ontario's Minister of Agriculture, Food and Rural Affairs, Ted McMeekin (right) discussed frost damage to apple and tender fruit orchards with Rich Feenstra, owner of Mountainview Orchards near Beamsville. Photo by OMAFRA.