It's a red-letter day for Kitchener-based Hendrix Genetics and Hybrid Turkeys, having one of their fold — a turkey named Liberty, which they describe as a second-generation Canadian (because its genetics originated in Canada) — recognized by US President Barack Obama at White House. "Our pedigree farms are in Ayr [Ontario] and near Elora and that's where poults or eggs that are shipped to the US or Canada (even South America) come from," says marketing and communications manager Lianne Appleby.
It kind of reminded me of when University of Guelph-developed Yukon Gold potatoes were served at then-U.S. President Bill Clinton's inauguration dinner. Except this time, the "product" doesn't get processed.
Below is the celebratory pardon at the White House, along with a memo from the company (which also inserted the links).
Here's the video:
http://video.foxnews.com/v/1292069130001/president-pardons-turkey-for-thanksgiving
And Happy Thanksgiving to my American relatives and friends.
  * * *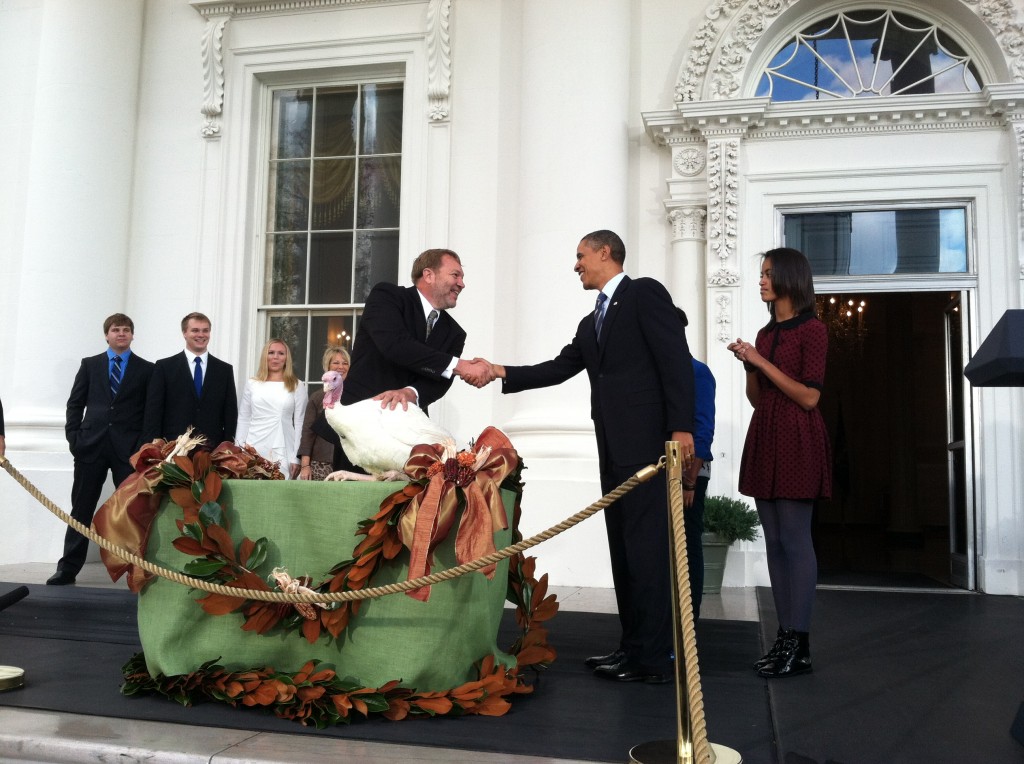 Hybrid Turkey Pardoned by Obama
Hybrid Turkeys is pleased to be able to say that the Thanksgiving turkey named "Liberty", officially pardoned by US President Barack Obama on November 23, 2011, was one of our very own.
Hatched on July 7, it was raised to about 5 weeks of age in a flock of commercial turkeys bred with Hybrid Turkeys genetics.  A group of about 35 turkeys was then removed from the main flock in Willmar, MN.  These birds were specially trained by children from the FFA – a youth organizing which promotes agriculture – under the supervision of National Turkey Federation Chairman (and owner of Willmar Poultry Company, Hybrid Turkeys biggest US customer) Richard Huisinga, who was present at the ceremony on November 23.
The "group training" ensured that the chosen turkey would be able to handle the types of surprises that a moment in the spotlight could expose them to: loud noises, flash lights, extensive handling, music, crowds of people etc. "Liberty" and "Peace", the finalists from the group of 35, were chosen for their attractive feathering, muscling, red and blue head coloring and a healthy fanning of feathers when they strut.
Hybrid Turkeys' Peter Gruhl drove the two birds from Willmar, MN to Washington D.C., for the big day. He was also present during the ceremony and placed Liberty on the table prior to the President's pardoning.
Names were selected from over 100 submissions to the Minnesota Turkey Growers Association's website, including many from students who were learning about the importance of agriculture to the world food supply and local economies.
"Some of you may know that recently I've been taking a series of executive actions that don't require congressional approval," Obama said. "Well, here's another one. We can't wait to pardon these turkeys — literally. Otherwise, they'd end up next to the mashed potatoes and stuffing."