We'll vote this week for the people and the party we think will best serve Ontario's interests for the next five years.
Who will those people be? The Liberals and Conservatives are running neck-in-neck, and the NDP is a solid third. The heat's on and the rhetoric is bound to hit fever pitch this week.
Some voters are looking for pit-bull politicians who can rip their opponents to shreds. Not me. I don't think the best politicians are the ones who chew up and spit out others in all-candidates debates or in TV attack ads.
Instead, I'm looking for someone who exhibits leadership, trustworthiness and a realistic attitude, and represents a political party with imagination, compassion and integrity.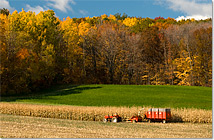 I'm interested in who will help our agri-food sector flourish, both by knowing when to stand aside and let farmers farm, and by creating legislation that helps them capitalize on Ontario's unique features — diversity, processing capacity, an educated workforce and proximity to huge U.S. markets, among them. We have major advantages here that need to work in farmers' favour.
Ontarians need to vote for those who will keep our agri-food sector vibrant. I write about this imperative in my Urban Cowboy column in the Guelph Mercury.
The photo above is from http://www.ontariosolarfuture.ca/.