This week we're welcoming more than 250 of the world's top agricultural journalists to our area, when three years of determined, hard work culminates with a celebration of Canadian agriculture — and a nod to those who put it on the map.
The participants belong to the International Federation of Agricultural Journalists, comprising about 5,000 members from 30 countries. As part of their annual congress, they're visiting farms in southern, central and eastern Ontario, after ceremoniously being welcomed in Guelph Wednesday night.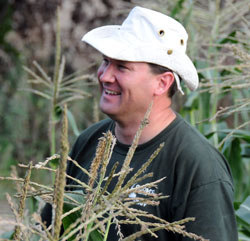 The congress moves from country to country each year. However, it hasn't been in Canada since 1967, because the organizational infrastructure wasn't in place to support it. Over the past decade or so, though, the network of agricultural journalists and communications professionals throughout Canada has strengthened. New communications jobs have cropped up in business, industry and grower organizations, as farmers increasingly embrace the need to communicate with stakeholders and decision makers — politicians, the media and consumers, among them.
The congress's theme, Experience New World Agriculture, was chosen mainly with visitors from the old world in mind. Canadian agriculture owes so much to immigrants, going back to the 1600s. Pardon me if I exclude anyone, but consider the Métis descendents of French fur traders who married aboriginal women and became farmers, mainly on the prairies and in Ontario. Later, Ukrainians, Scandinavians, Belgians, Dutch, Swiss, Germans, Russians, Irish, Scottish, Welsh, French, Italians and others from the old world would find regions here that suited them or were available, and further open the land. Chinese workers toiled to create rail lines that would move new farmers from coast to coast. Even now, Canadian agriculture would struggle mightily without migrant workers.
This diversity has contributed to a dynamic agriculture and agri-food sector, one that's eager to tell its many stories to visiting journalists.  Read more about the congress in my Urban Cowboy column in the Guelph Mercury.
The photo above of Guelph area pumpkin- and sweet corn farmer Channing Strom is from the Godfather of Agricultural Social Media, Chuck Zimmerman of AgWired, a faculty member in this year's IFAJ Master Class-Boot Camp experience.