Canadian farmers are pitching in to help support Japan's earthquake and tsunami victims.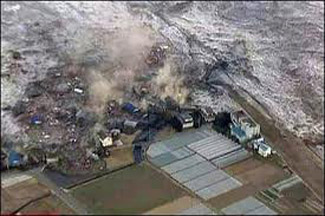 Pork producers and exporters have announced they are donating more than $100,000 to the Canadian Red Cross Japan relief fund. Their efforts will be directed through the Canadian Red Cross, which pork producers say is "best situated" to direct funding to those who need it. The Canadian Red Cross has established a special Japan Earthquake/Asia-Pacific Tsunami fund, and has close ties to the Japanese Red Cross Society.
Similarly, Canadian pork producers have a direct line to Japan. The country is Canada's top export market for fresh, frozen and chilled pork, worth almost $810 million last year.
Markets that size only develop with significant nurturing. Long-term business is about more than money and, over time, a culture has evolved in the agri-food sector between Canadians and Japanese that goes beyond dollars and yens. Canadian Pork Council president Jurgen Preugschas noted how the industry "has many business and personal friendships with the people of Japan, and we have all been touched by the scale of this enormous tragedy."
I write about the farm community's efforts to help Japanese earthquake and tsunami victims in my Urban Cowboy column in the Guelph Mercury.