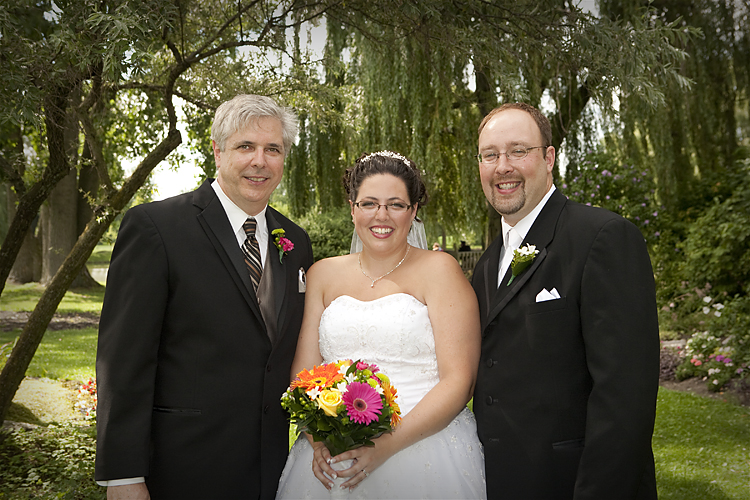 A few Saturdays ago (July 24, to be exact), I walked down the aisle and symbolically gave away my eldest daughter, Alicia, in marriage to a bright and ambitious young farmer named Mark. He and his family grow crops and raise livestock, near Thamesville, on farm land that's been a part of their heritage since the 1800s.
Alicia's not a farm girl per se. But in some ways, agriculture's always been part of her life.
For example, on Saturdays gone by, we'd go to Old MacDonald's Farm at the University of Guelph during College Royal and ogle at the fistulated cow. Or we'd drop by Donkey Days at the Donkey Sanctuary of Canada, a rural marvel just outside Guelph. Or we'd go east to the Erin Fall Fair on Thanksgiving weekend, to watch border collies herd sheep.
And when Alicia became a student at the University of Guelph, her interest in agriculture grew. She ran Project SOY, a contest in which students find innovative, marketable uses for soybeans, Ontario's biggest cash crop. She worked with her sister, Kate, as a student research writer, earning numerous bylines in farm-oriented magazines. For my part, I was fortunate to have her enrolled as a student in my agricultural communications course, where her knack for journalistic writing flourished.
But as far as really understanding what it's like to be a farmer, the experiences I offered pale compared to the new life she's entering. I write about this change in life — for both of us — in my Urban Cowboy column, published in the Guelph Mercury.
The photo above of the beautiful bride, her handsome husband (and me) was taken at Brander Park, near Port Lambton, by their wedding photographer Kate Dath. My thanks to everyone who was able to attend the wedding and reception.