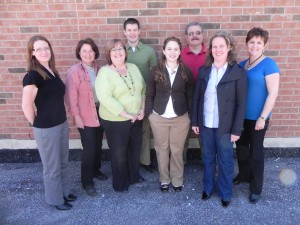 The 2010-2011 version of the Eastern Canada Farm Writers' Association board brings a broad range of experience and ambition to the table.  The board held its inaugural meeting this week, and president Clare Illingworth says the group is determined to carry on the ECFWA's tradition of offering value to its members. "I know that this executive will be able to build on that reputation, as we gear up to host our international colleagues at IFAJ 2011," she says.
It's great to see so many former SPARK participants and ag communications graduates among the executive. The group, from left, comprises president Clare (SPARK),  second vice-president Karen Dallimore, director Kathie MacDonald (ag com diploma), secretary-treasurer Andrew Campbell (SPARK*AIR liaison with farms.com), newsletter editor Claire Cowan (ag com undergraduate course), director Terry Stevenson (ag com diploma), first vice-president Sarah Andrewes and past president Kelly Daynard.  Absent from the photo are directors Jane Robinson and Christina Franc.
What a competent group! Good luck to the new executive.